Research
Research
3-D chemical imaging of coke formation in hydrotreating catalyst extrudates
With the depletion of fossil fuels and the ever increasing demand for fuels, it is important to make catalyst materials more robust for treating other, less conventional feedstocks to facilitate the gradual move of the (petro-)chemical industry from relatively clean to alternative feedstocks, i.e. the heaviest parts of crude oil, shale and bitumen tars. These alternatives are characterized by a wide variety of poisons as well as by precursor molecules for coke formation and deactivation. This especially holds for hydrotreating catalysts, which most often consist of metal sulphides, more specifically Co-Mo and Ni-Mo sulphides. [1]
Therefore, it is of great importance to obtain insight in the type and amount of coke (precursor) deposits within Al2O3-supported Ni-MoSx and Co-MoSx hydrotreating catalysts. In order to investigate these catalysts, Au-based Shell-Isolated Nanoparticles (SHINs) will be mixed and compounded in realistic Al2O3 extrudates to enhance the signal for Raman spectroscopy (Figure 1). More specifically, SHINERS-Diagonal Offset Raman Spectroscopy (SHINERS-DORS) will be used to provide 3-D non-invasive chemical insight and obtain spatiotemporal in situ information of the catalyst bodies. [2]
The genesis of coke and related deactivation will be further investigated with soft and hard X-ray microscopy. Scanning Transmission X-ray Microscopy (STXM) employing soft X-rays and Transmission X-ray Microscopy (TXM) employing hard X-rays are used to provide spatial maps of Al, Ni, Mo, S and C. [3] Overlay of chemical maps provide unique spatiotemporal insight in where exactly coke deposits form and how they affect the structure of the metal sulphides nanoslabs.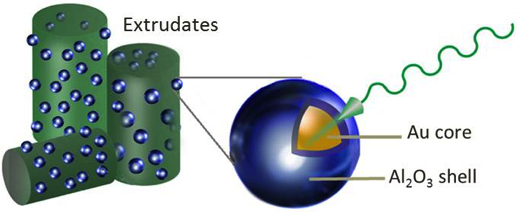 Figure 1: Shell-Isolated Nanoparticle (SHINs) on catalyst extrudates for SHINERS-DORS measurements.
[1] J. Hagen, "Industrial Catalysis, A Practical Approach", Wiley- VCH, Weinheim (1999).
[2] M.W. Zandbergen et al., Angew. Chem. Int. Ed., 51, 957-960 (2012).
[3] Al Samarai et al., J. Phys. Chem. C, 119, 2530-2536 (2015).
C.V.
C.V.
2015 – Present  
PhD research titled "3-D chemical imaging of coke formation in hydrotreating catalyst extrudates" in the Department of Inorganic Chemistry and Catalysis, Utrecht University, under the supervision of Prof. dr. ir. B.M. Wechhuysen.
2015
Five month intership at Albemarle, R&D Amsterdam.  Focus of research: Hierarchical zeolites by post-synthetic treatment.
2013 – 2015
Master's degree in Nanomaterials: Chemistry and Physics. Thesis entitled: "Elucidation of the oligomerization and polymerization mechanisms of Ethylene over the SiO2-supported chromium catalyst " in the Department of Inorganic Chemistry and Catalysis under the supervision of Dimitrije Cicmil and Prof. dr. ir. B.M. Weckhuysen.
2009 – 2013
Bachelor's degree in Chemistry, Utrecht University, Thesis entitled: "Nanocasting: Filling the Void" in the Department of Inorganic Chemistry and Catalysis under the supervision of dr. Peter Munnik and Prof. dr. Petra de Jongh
2006 – 2008
"Adelborst" at the Royal Netherlands Navy Academy (KIM), Den Helder. First year diploma in Military Systems and Technique and sailing with educational ship Van Kinsbergen and Zr. Ms. Vlaardingen.
1987 
Born in Amersfoort
Publications