Research
Research
The majority of plastic waste is landfilled, burned or leaks to the environment. Unfortunately, only 12 % (by weight) is recycled globally1 mainly because the predominantly applied recycling technique of melting and re-extrusion produces a lower quality plastic.2–6 Therefore, chemical depolymerization of plastic has been studied to produce monomers which can be used to make high-quality plastic again. For polyolefins, however, only a very mixed, low value hydrocarbon stream was obtained thus far.4  This is because thermal cracking of the strong polyolefin bonds evokes random bond scission, uncontrolled further reaction and thus the formation of various products besides monomers.
My research focusses on developing pathways for the low temperature selective chemical recycling of plastic waste to chemical building blocks like aromatics, carboxylic acids and monomers. I am especially interested in using mechanochemistry and catalysis to drive the depolymerization and cracking reactions of polyolefins. Mechanochemistry is a rather less developed field of chemistry where reactions are driven not by thermal energy, electrons or photons but rather by mechanical strain, which can lower the activation energy needed to be overcome for bond cleavage. This strain can, for example, be applied in a ball mill. Heterogeneous catalysts can also lower the activation energy barrier and improve selectivity to commercially interesting products like aromatics.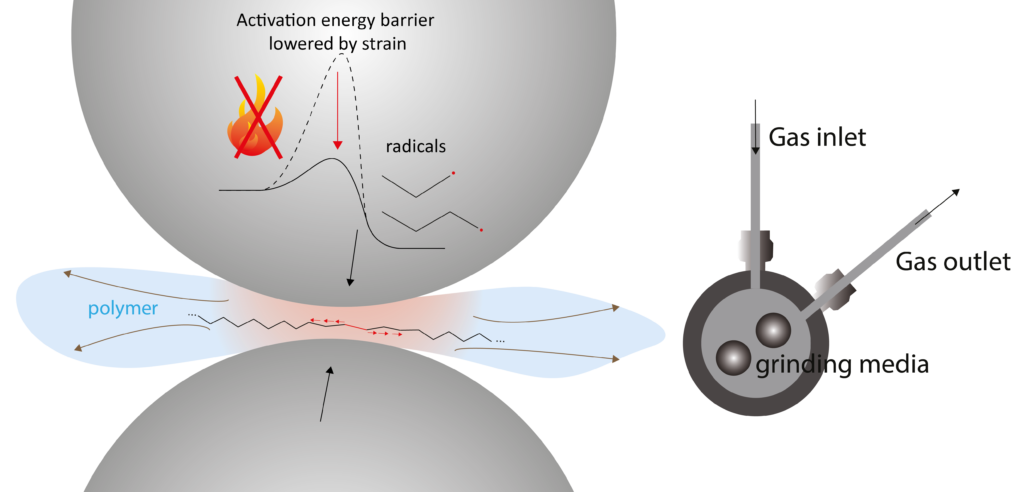 Extending the bonds of polymers by force, e.g. in a ball mill can assist their cleavage and help to depolymerize them at lower temperatures.
(1)        The Ellen MacArthur Foundation. The New Plastics Economy: Rethinking the Future of Plastic&Catalysing Action; 2013; Vol. 52.
(2)        Jansson, A.; Möller, K.; Gevert, T. Degradation of Post-Consumer Polypropylene Materials Exposed to Simulated Recycling—Mechanical Properties. Polym. Degrad. Stab. 2003, 82 (1), 37–46. https://doi.org/10.1016/S0141-3910(03)00160-5.
(3)        Canevarolo, S. V. Chain Scission Distribution Function for Polypropylene Degradation during Multiple Extrusions. Polym. Degrad. Stab. 2000, 70(1), 71–76. https://doi.org/10.1016/S0141-3910(00)00090-2.
(4)        Ragaert, K.; Delva, L.; Van Geem, K. Mechanical and Chemical Recycling of Solid Plastic Waste. Waste Manag. 2017, 69, 24–58. https://doi.org/10.1016/j.wasman.2017.07.044.
(5)        Dordinejad, A. K.; Sharif, F.; Ebrahimi, M.; Rashedi, R. Rheological and Thermorheological Assessment of Polyethylene in Multiple Extrusion Process. Thermochim. Acta 2018, 668, 19–27. https://doi.org/10.1016/J.TCA.2018.08.010.
(6)        Bai, C.; Spontak, R. J.; Koch, C. C.; Saw, C. K.; Balik, C. M. Structural Changes in Poly(Ethylene Terephthalate) Induced by Mechanical Milling. Polymer (Guildf). 2000, 41 (19), 7147–7157. https://doi.org/10.1016/S0032-3861(00)00048-3.
C.V.
C.V.
2015 – 2019 PhD at Technical University Delft in Catalysis Engineering
2013 -2015 M.S.CEP Chemical Engineering at Massachusetts Institute of Technology
2009 – 2013 B.Sc. Process Engineering University of Applied Sciences Hamburg
News
Ina Vollmer and Ward van der Stam (both ICC) have received an NWO XS grant of 50.000 euro for curiosity-driven research into new ways to recycle plastic and CO2. Ina […]
Read more
Ina Vollmer and Florian Meirer have been interviewed for an in-depth article about plastic in the environment: 99 percent of all the plastics in the ocean is missing. We know […]
Read more
Publications
Other publications
See earlier publications on Scopus.